International Coastal Cleanup 2017 - ***Scroll down to view Sites
***Due to Hurricane Irma, dates may be adjusted for Cleanup projects. Please see below for any confirmed dates.
The International Coastal Cleanup (ICC) is the world's largest, one-day volunteer effort to clean up the marine environment. Every September, volunteers from over 100 countries descend on local beaches, rivers, lakes and canals to show their commitment to cleaner waterways. The Ocean Conservancy, the world's largest organization focusing exclusively on the health of the marine environment, has sponsored this annual event for the past 31 years. In Palm Beach County, we extend the Cleanup to additional dates through November.​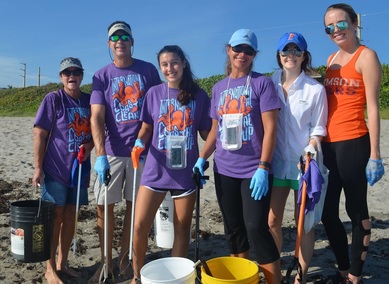 The ICC is much more than just removing trash. By providing detailed, standardized data on
paper data cards
, or electronically through the
Clean Swell app
, volunteers gather valuable information about the types and sources of debris found. Analyzed and tracked year by year, this information serves as a powerful tool for educating the public, influencing public policy, and effecting positive behavioral change on the part of individuals, organizations and communities.
​The collection of this data by cleanup volunteers of all ages and the resulting report prepared by the Ocean Conservancy is used in the following ways:
---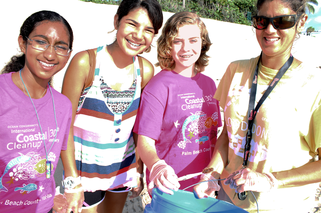 - To raise awareness of the quantities and types of marine debris;
- To determine the various sources of marine debris;
​- To evaluate the impact of marine debris on wildlife and habitat;
- To assist in the enforcement of regulations against illegal dumping;
​- To influence industries that manufacture products that cause harm to the marine environment.

​Keep Palm Beach County Beautiful, Inc. (KPBCB) coordinates the ICC in Palm Beach County. Volunteers will clean sites from Boca Raton to Tequesta and will receive free t-shirts (while supplies last) to commemorate the event and their efforts.

---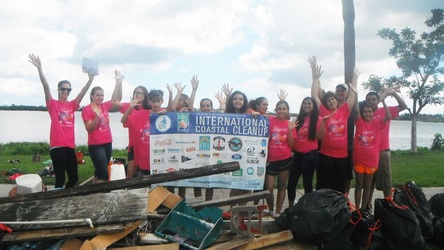 Volunteers should ​
pre-register
and get additional information by contacting the volunteer coordinator listed for the site they're interested in. They can also contact KPBCB by phone at (561) 686-6646 or by email at info@keepPBCbeautiful.org
​
Site Times Vary - Scroll down to see list.Community Service Hours are given.
​Please read volunteer guidelines on the registration form.

​
In case of inclement weather on the day of the Cleanup, please check this website or contact the Volunteer Coordinator below for your Site for further information.
---
Thank you to our 2017 Sponsors!
Cleanup Sites Palm Beach County
Contact the Volunteer Coordinator Listed to Pre-register and verify date due to storm-related re-scheduled cleanups. Check back for additional Sites and information.
Scroll all the way down. Some Sites have confirmed dates.

Lake Park
Underwater Cleanup -
start time: 12:30 p.m.
- Sunday, October 22.
​***certified divers only
​
Deep Obsession Charters
​216 Federal Highway, Lake Park
​Volunteer Coordinator:
Katy Roth
913-485-2353
​Managed by Debris Free Oceans
Boca Raton
Gumbo Limbo Nature Center
- start time 8:00 a.m.
Saturday, October 28
***All Youth under 18 must be accompanied by an adult.
*** Please pre-register at
Gumbo Limbo website
***Groups may be assigned and must contact Volunteer Coordinator for assignment.
Volunteer Coordinator:
Susan Elliott
(561) 544-8606
Managed by
Gumbo Limbo Nature Center
Boynton Beach
Harvey Oyer Park
(Boat Club Park) - start time 8:00 a.m.
- Saturday, October 28.
2010 N. Federal Highway
Boynton Beach, FL
Volunteer Coordinator: Carol Moran (561) 707-5660
Managed by Boynton Beach Fishing Club
Palm Beach
Phipps Ocean Park - start time 8:00 a.m
- Saturday, October 28.
2185 S. Ocean Blvd.
Palm Beach, FL 33480
Volunteer Coordinator: Terry Hamilton (561) 644-4474
Managed by Surfrider Palm Beach County Chapter
Lake Worth
​​
Bryant Park
- 9:00 a.m. to 1 p.m. with break for lunch-
- Friday, November 3
​185 Golfview Road
Lake Worth, FL 33460
Meet at North Entrance off 1st Ave South and South Golfview Road
Volunteer Coordinator:
Diana De La Rosa
(786) 566-9843
Managed by the
Florida Department of Environmental Education
Greenacres
Greenacres Community Center - start time 8:00 a.m.
- Saturday, November 4
Meet at Community Park
2905 South Jog Road, Greenacres (next to the Public Safety/Sheriff's Building)
Volunteer Coordinator: Aileen Hernandez (561) 642-2050
Managed by City of Greenacres
​
Lantana
Lantana Beach -
start time 8:30 a.m.
- check back for date.
***no additional volunteers needed at this location
100 North Ocean Blvd.
Lantana, FL 33462
Meet at Lantana Oceanfront Pavilion
Volunteer Coordinator:
Nadine Shawah
(561) 540-5754
Managed by the
Town of Lantana
​
Jupiter
Abacoa Greenways and Common Areas -
start time: 7:30 a.m
- Check back for date.
Meet at
Abacoa Community Park
1501 W. Frederick Small Road
Jupiter, FL 33458
Volunteer Coordinator:
Tere Muniz
(561) 624-7788
Managed by
Abacoa Property Owners Assembly